Since 2002, hundreds of Roll Shops have chosen Sparkonix's CNC Roll Turning Lathe for a single reason. It's probably the most cost-efficient Machine for Roll shops, not just in India but for the customers in over 45 countries around the world.
Whether its productivity, features, quality or maintenance, the cost-efficiency of CNC Roll Turning Lathe from Sparkonix is simply…
beyond comparison
Productivity.
A sturdy machine enables Higher cut depth with optimum Motor feed and Speed. This enables faster Roll machining on all grades of Carbide, Steel and Cast Rolls. Eliminates the need for Groove Grinding in some applications.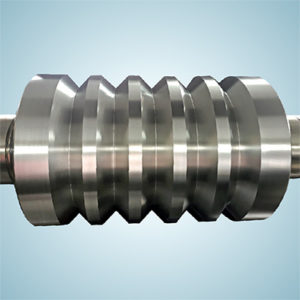 Features.
CAD Imports: Easy to import CAD files (.dwg and .dxf files)
Automated Programming : Built in CNC programming intelligence and Programming control
Simulation and Safety: Collision avoidance, Machine limits, Wireframe and 3D simulation facility
Results: Shows NC code with machining time

Quality.
Hardened and Ground Bed Structure, 4+1 Guideways, Siemens CNC Controller, Precision Ball screws ensures machining within tight tolerances.

Service.
In-house facility for tools and consumables, remote support, Mobile App for Operators.

Advanced features at a price tag that's well below any other similar machine. The Sparkonix CNC Roll Turning Lathe ensures that you begin with solid savings.