Heavy duty automated machining.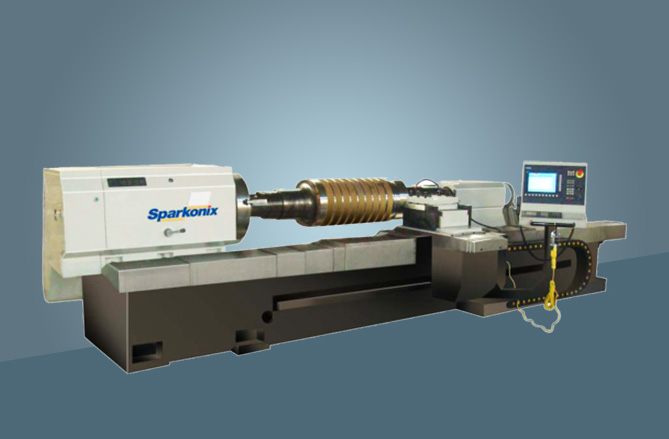 The CNC Roll turning Lathe is the ultimate replacement solution for Manual Lathes used by Steel Plants in the Roll Shop for Roll machining and pass cutting. Available in various Models, the CNC roll turning lathes drive a huge improvement in productivity, reduce the need for labor, eliminate manual errors and reduce the space required for turning operation in machining the Rolls.
The CNC Roll turning lathes from Sparkonix provide an economical solution to improve the quality of end product, productivity of the manufacturing process and thus adds to your profitability.
High Torque capacity at Head stock Face plate

Zero backlash with ball screw

Provision for higher cutting force

4 Guide way Lathe Bed

Perfect and Right Dimension of Bearing and Moving Parts

Telescopic cover to protect guideways

Rough and Finish Machining is achieved in the Lathe and with Siemens CNC System programming

Laptop with CAD/CAM Software for every machine

Remote diagnostics with ethernet ready machine
Reduced downtime by eliminating the manual changing of rolls

Faster machining

Idel for machining split pass forms

Easily replaces more than 5 manual lathes and frees up the space and complexity on the shop floor

Suaitable for composite and carbide rolls

Significantly reduces the operation time and Operator time

Cost savings through reduced inventory of rolls
Parameters
CL-560
CL-650
CL-650-EL
Max Roll Turning Dia
600 mm
700 mm
700 mm
Max Roll Length
2500 mm
2500 mm
3500 mm
Center Height
400 mm
450 mm
450 mm
Guide Way
2+3 (Heavy Duty
Linear Guide Way)
One Piece 4+1
One Piece 4+1
Guide Way Width
885 mm
1100 mm
1100 mm
Controller
Siemens 828D
Siemens 828D
Siemens 828D